efnMOBILE Emerging Envelope
International student workshops
The workshop program "efnMOBILE - Emerging Envelopes" 2013-2016 powered by Alcoa Foundation is a cooperation of the TU Delft in the Netherlands - Faculty of Architecture; Prof Dr. Ing Ulrich Knaack and Hochschule Ost Westfalen-Lippe (Germany) Detmolder Schule für Architektur und Innenarchitektur; Prof. Dr. Ing. Uta Pottgiesser. The program will be a traveling workshop during the years 2013 till 2016 – being active in several locations in Europe and provide the facility to experiment, build and evaluate building envelope constructions.
Workshop program "efnMOBILE 2.0 Efficient Envelope" 2016-2017.
Workshop 2015 - Detmold
Façadetronics
Der Workshop war eine Veranstaltung der efnMobile Workshopserie und fand vom 23.- 26. November 2015 an der Hochschule Ostwestfalen – Lippe in Detmold statt. In interdisziplinären Teams entwickelten Studierende der postgradualen Masterstudiengänge International Facade Design & Construction (IFDC) und Master- Computational Design and Construction (M-CDC) sowie des Fassadenmasters der Hochschule Luzern (HSLU) innovative Automatisierungskonzepte für die Gebäudehülle der Zukunft. Neben der grafischen Ausarbeitung der Konzepte lag ein besonderer Fokus auf ihrer modellhaften Realisierung in Form von Prototypen. Die Umsetzung erfolgte auf Basis digitaler Fertigungstechnologien wie dem Lasercutter und dem 3D Drucker, sowie der Arduino Microcontroller -Plattform. Die Ergebnisse wurden im Rahmen der Konferenz: facade2015 - computational optimisation vor einer Fachjury präsentiert.
Jens Böke / Jan Christoph Kahre Heidemann
Workshop 2015 - Delft
ThinkingSkins
The efnMOBILE – "ThinkingSkins" workshop was held in June 2015 at the TU Delft. After an introduction by Susanne Gosztonyi about the background of adaptive façades and by Jens Böke about the specific topic of ThinkingSkins, we started the ideation of future adaptive façade concepts related to individual functions of the façade.
Students from the TU Delft (NL) , the IFDC in Detmold (D), and from Lund university (Sweden) were participating the three-day workshop that was also supported by Alcoa.
A main part of the program was the prototyping of concepts. We created working models by using the efnMOBILE toolbox and also digital fabrication devices like a laser cutting machine. The results were presented in front of the EFN committee and also exhibited at the conference : Future Envelope 2015 – Unobtainium.
Workshop 2015 - San Sebastian
Low Carbon - High Architecture
The workshop was organised in cooperation with the RWTH Aachen.
Eight mock-ups were realised and ready to be presented at the International Conference of Architectural Envelopes ICAE in San Sebastian. At the conference we had the chance to discuss the concept of disassembly and its consequences with representatives from companies, architects and planners. The built model helps the discussion about different aspects of the design.

The students commented that it was worth to take this course as most of them did it voluntary. Besides a week of handicraft work we hope this experience contributes to improve the ability to design and detail facades with high architectural qualities and low carbon.
Workshop 2014 - Lucerne
Adaptive Building Envelopes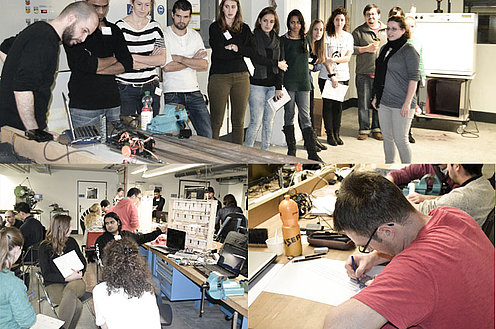 The Facade2014 Workshop took place from the 21st to 24th November 2014 in Luzern (Switzerland). It was organized by Hochschule Ostwestfalen-Lippe and Hochschule Luzern. Students from IFDC, TU Delft and HS Luzern met in the workshop of Hochschule Luzern T&A (Technik & Architektur) building in Horw and worked together in five groups around the the Adaptive Facades topic.
The workshop was held in 3 days. During these days students worked together as a group and developed the ideas regarding Adaptivity and new technologies. Before the workshop, IFDC students prepared their concepts and mock-ups. They achieved developed their ideas and could present fully functioning mock-ups.
Furthermore, during the workshop students had a good experience at working in teams with students from other universites and by learning software tools such as Grasshopper and Firefly plugins for Rhino. On the last day of the workshop, each group presented their projects to the professors, members of the academy and industry. They gave feedback, ideas and discussed around further developments.
Workshop 2014 - Bath
Low-Cost Low-Energy Climate Responsive Facade
The second workshop of the project "Emerging Envelope - European Facade Network MOBILE (efnM)" took place in Bath, UK from 02-06 June 2014. Invited participants included "International Facade Design and Construction" (IFDC) students from University of Applied Sciences Ostwestfalen-Lippe, Germany and "Sustainable Environmental Engineering" students from University of Bath.
During four intensive workshop days, students were able to develop and complete Mock-Ups.The questioned topic for the workshop was "how to design energy effective facades for different climates with half price of local's traditional systems?" The mock-ups were designed to fulfill all required fields and brought different functions to their facades: simple solar chimney, ventilation and dehumidify system, shading systems.
The final mock-ups were exhibited at the conference "Future Envelope 8 - Mind the Gap" organised by the Centre of Windows and Cladding Technologies (CWCT).
Workshop 2014 - Aachen
Thinking Skins
The third workshop of the program took place at the RWTH Aachen in 2014 under the title "ThinkingSkins".
Task of the workshop was to integrate two features of the building envelope by digital control in one intelligent solution. It was edited by a total of five interdisciplinary student groups of the faculties: computer science , architecture and product design.
Workshop 2013- Detmold
Green-Noise-Energy-Light
During the facade conference "Design vs. Development" in 2013, the first efnMOBILE workshop was held in Detmold.
Separated in four different topics "Green", "Noise Reduction", "Generating Energy" and "Light Quality" the participants formed groups and developed innovative ideas for the façade of the future.
As result of the workshop two prototypes were realised in scale 1:1. They were also presented at the conference.