Facade researcher asks for new thinking in problem solving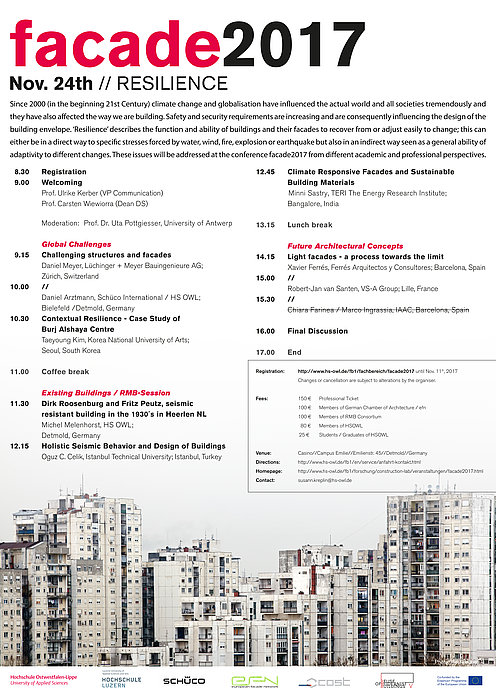 Torrential rains, storms, flooding: as climate change and globalization all take their toll, they also increasingly impact on the way we build. This holds especially true for the way we build facades. Reasons enough for "façade2017" with the topic 'Resilience' to have focused on the durability and resilience of buildings. The specialist conference, featuring international lecturers and speakers, took place on Friday 24 November 2017 at the University of Applied Sciences Ostwestfalen-Lippe in Detmold.
'Resilience' describes the function and ability of buildings and their facades to react and adapt to changes of various types. At the conference, experts from Korea, India, the USA, France, the Netherlands, Switzerland and Turkey presented examples of resilient designs and constructions of buildings and facades. The talks were grouped under four focus topics: Global Challenges, Renovation of Existing Buildings, Responsive Facades and Architectural Concepts for the Future.
The architect Daniel Meyer (Zurich) presented challenging structures and facades based on the ITA building (Institute of Technology in Architecture) of the ETH Zurich. Of outstanding significance is here the digitally produced, wave-shaped roof construction. Even more demanding on construction, the museum "La Maison des Fondateurs" (completion 2018) was presented, with its spiral form and stable glass walls and the very special challenges of the environment in Switzerland with its heavy snows. https://www.luechingermeyer.ch/project/museum-audemars-piguet-apc-le-brassus/
The Indian monsoon rains present challenges of quite a different kind, as Daniel Arztmann of Schüco International KG (Bielefeld) explained. Aside from torrential rains the facades need to withstand storms and high temperatures. This requires new approaches: A Detmold Master student has developed special monsoon windows which allow air flow even in times of strong rains. Resilient facades need to be constructed in a way that allows easy exchange of individual damaged parts, without the need of replacing the entire facade.
The facade of the Mashrabiya (Gensler) building in Kuwait City needs to cope, by contrast, with dry heat. The hotel and office building with its Arabic-style shading elements was presented by Taeyoung Kim (South Korea) who has worked for a long time for the architectural office Gensler. https://www.gensler.com/projects/four-seasons-hotel-burj-alshaya-centre
Wessel de Jonge, Dutch, introduced quite a different approach with the renovation of buildings from the 20s and 50s. The problem with the Zonnestraal sanatoriums dating from the year 1931 is that this type of building was, according to de Jonge, not made to last more than 30 years. Without the support of the public sector such refurbishment would be impossible, as they are too expensive. http://www.wesseldejonge.nl/zonnestraal1.php
When and why can a building withstand an earthquake? What kind of design helps to keep damage to the façade and the entire building at a low level? This was the research focus of Oguz C. Celik (ITU Istanbul), who provided an insight in his work. Mikkel Kragh (Odense, Denmark) showed more trends in resilient building and construction. Sanjay Seth of TERI (The Energy Research Institute, Neu Delhi) presented "Climate Responsive Facades and Sustainable Building Materials" in India. He pointed out the importance of the orientation towards the sun of newly erected high-rise buildings as well as the attention to mutual shading of buildings in close vicinity. By allowing daylight to reach even the lower storeys of buildings, massive energy savings can be achieved, according to Seth. http://www.teriin.org/
Robert-Jan van Santen (Lille) advocated a new approach to problem solving. The architect who works mainly in Hong Kong presented a window without frame and handle. This allows hazard-free ventilation in high-rise buildings which we find chiefly in fast growing Asian metropolis. Through two circular holes in the window panes, which are closed by specially developed "lids", fresh air can enter. These lids can be designed individually by the residents. As van Santen explained. "Half of façade design is interior architecture anyway" http://www.vs-a.eu/en/
The concluding talk by Spencer Culhane (Schüco USA), a student of the International Facade Master at the Detmold School of Architecture and Interior Architecture, focused on the specific acoustic and architectural demands on glass facades for concert halls and musical performances.
"The conference covered very many different aspects of 'resilience': globally and in terms of urban development, locally and culturally as well as technical and economical aspects. It was good to see how intensively students and lecturers exchanged knowledge and experiences with each other", said Professor Dr. Uta Pottgiesser (Antwerp University) who moderated the expert conference.
Future dates:
Façade Tectonics 2018 World Congress: 12/13 March 2018, Los Angeles
ICAE 2018: VIII. International Congress on Architectural Envelopes (Calls for Papers: 1. 12.2017): 20.-22. June 2018, San Sebastian
Facade 2018: 26./27.11.2018, Hochschule Luzern
Master of Integrated Design (MID), Vertiefungen "Facade Design" und "Computational Design": http://www.m-i-a-d.de/mid-master-of-integrated-design/
Some impressions of the conference
Photo Gallery
Prof. Ulrike Kerber (VP Communication)
Prof. Kathrin Volk (Vice Dean Dept. 1)
Moderation: Prof. Dr. Uta Pottgiesser, University of Antwerp
Session #1 Global Challenges
9.15 Daniel Meyer // Challenging structures and facades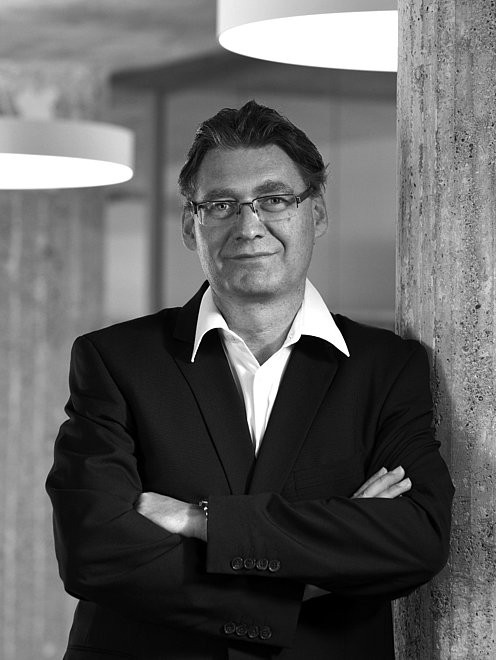 Lüchinger + Meyer Bauingenieure AG; Zürich, Switzerland
Daniel Meyer is a graduate of the Federal Institute of Technology Zurich (ETHZ), Switzerland. Since 1988, he worked as a consulting engineer with Wenaeser&Wolfens-berger Ltd, Zurich and Bollinger&Grohmann Ltd, in Frankfurt. In 1995 together Daniel and Dr. P. Lüchinger founded the consulting company Dr. Lüchinger+Meyer Ltd. Today he is a member of the executive and the management board. He released a number of projects of housing, industry and bridge construction works in Switzerland as well as on European level.
His work in a team with architects is focussed on the conception of structures, succeeding in numerous national and international design competitions. Special references concern the development of innovative structures such as glass structures. In addition to the professional work as structural engineer, a special engagement is devoted to the formation of students. From 2003 to 2010, he was the head of the competence centre for glass and lightweight construction at the University Of Applied Sciences Of Lucerne. Since 2011, he is responsible for the architectural master course at the University Of Applied Sciences Of Zürich in the field of structures and façades.
Today Daniel Meyer is a member of the Swiss association of architects and engineers (SIA) and since 2009 an insider and vice president of the board of directors.
10.00 Daniel Arztmann // Climate Change, Globalization and Digitalization and their Impacts on Prospective Façade Design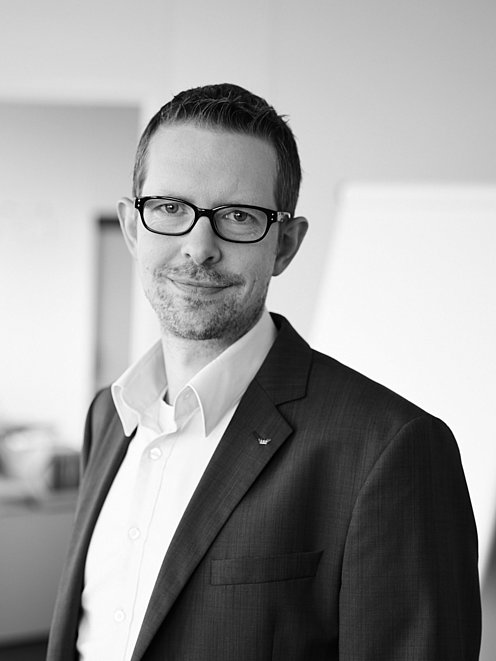 Schüco International/ HS OWL, Bielefeld/Detmold, Germany
Daniel Arztmann studied Architecture at the Hochschule für angewandte Wissenschaften und Künste in Holzminden (HAWK) focussing on metal construction and facades. He obtained his M.Eng. in Facade Design and Construction from OWL, University of Applied Sciences in Detmold and became Head of Research and Development for Emerging Markets at Schüco International KG until 2011. He continued to specialize in building physics and construction for international projects in the global engineering department.
Since 2010 he is teaching in the façade master program in Detmold and since 2016 in the new MIAD program. His focus here is in detailing and construction.
He has longtime practical experience in façade consultancy for international architects and cladding companies but also an affinity to scientific methods of theoretical building physics.
10.30 Taeyoung Kim // Contextual Resilience - Case Study of Burj Alshaya Centre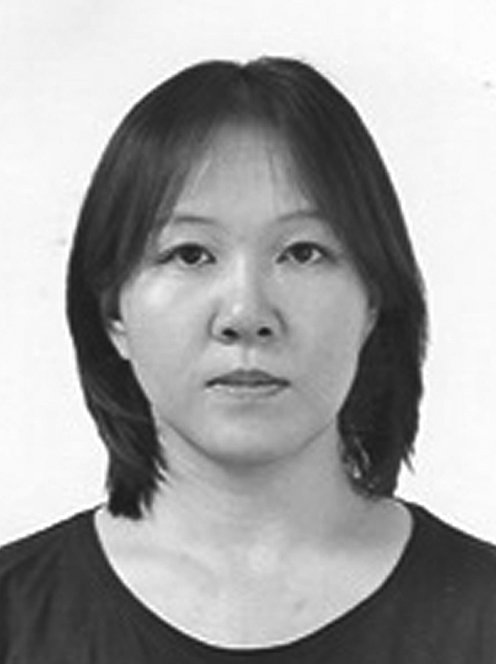 Korea National University of Arts; Seoul, South Korea
Taeyoung Kim is an Assistant Professor, in the Department of Architecture, at School of Visual Arts
Korea National University of Arts (K'ARTS), Seoul, Korea , Taeyoung Kim studied architecture at Seoul National University (BSC, MSC),and worked as an architect for KIOHUN for 6 years (1996-2002) before joining the Design PhD program of the Bartlett School of Architecture, UCL in 2002. She worked in Gensler as a Senior Associate (2004-2013), leading numerous architectural and masterplan projects in Europe, the Middle East and South Asia while running Atelier 7 as a co-tutor in Greenwich University (2008-2011) and participating with academic juries and critics in London and Paris.
Taeyoung is currently an Assistant Professor at the K'ARTS in 2014, coordinating the advanced design studios of the RIBA-validated architectural program and running one of the studios with a focus on social architecture and urban informality. She is a co-founder of Urban Topology, a design and research practice where she continues her interest in the design of cooperative housing and art/cultural projects for private and public clients.
Session #2 Existing Buildings / RMB-Session
11.30 Wessel de Jonge // From Office to Housing. The GAK-Building became 'de studio'.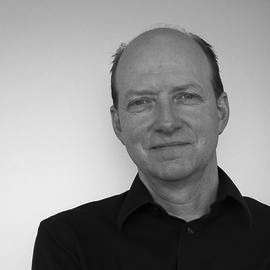 wessel de jonge architecten bna bv; Rotterdam, Netherlands
Wessel de Jonge (1957) graduated in architecture from TU Delft, the Netherlands. As a partner in Wessel de Jonge Architects in Rotterdam, his portfolio includes the restorations of the Netherlands Pavilion at the Venice Biennale by Gerrit Rietveld of 1953 and of the former Sanatorium 'Zonnestraal' in Hilversum by Duiker & Bijvoet of 1926-31, as well as the rehabilitation of the Van Nelle Factory in Rotterdam by Brinkman & Van der Vlugt of 1926-30. Recent projects include the restoration and adaptive reuse of Aldo van Eyck's 1960 Orphanage in Amsterdam. He is also a partner in the design team for the ongoing revitalisation of the 1938 Olympic Stadium in Helsinki.
In 1990 Wessel de Jonge was the Founding Secretary of DOCOMOMO International, and in 1994 he started the DOCOMOMO International Specialist Committee on Technology. He has published extensively and lectured internationally on various aspects of Modern Movement heritage. Since 2015 he is full professor in Heritage & Design at the Faculty of Architecture and the Built Environment at TU Delft. Wessel de Jonge will speak about the re-use of the GAK-Office Building (Gemeenschappelijk Administratie Kantoor) built in 1959 from the architect Ben Merkelbach in Amsterdam. The building has been modified into housing providing small starter-appartements ('de studio').
Session #3 International Trends / Responsive Facades
13.45 Mikkel K. Kragh // International Trends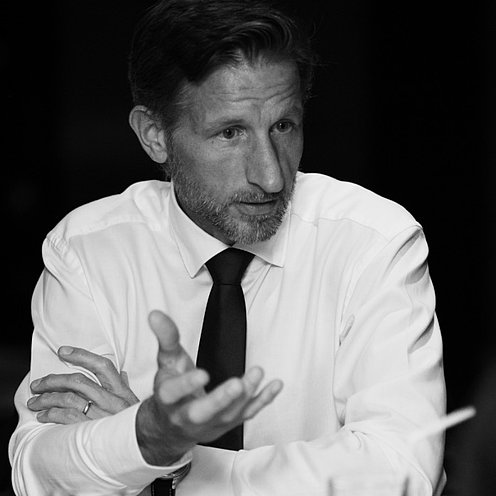 Head of SDU Civil and Architectural Engineering. Department of Technology and Innovation (ITI), University of Southern Denmark (SDU).
Mikkel K. Kragh is Professor and Head of SDU Civil & Architectural Engineering at the University of Southern Denmark, where he is currently strengthening the research group and broadening the scope with a strong focus on resilience and digitalization. Before joining the SDU, he worked internationally as a specialist, running a number of projects in the field between architectural design and product development. Mikkel is a frequent speaker at international workshops and conferences, where he discusses aspects of high performance and the value of design.
Mikkel has worked internationally as a façade specialist on numerous prestigious construction projects with Dow Corning, Arup consulting engineers, and the Permasteelisa Group. In parallel with design work, he has led a number of collaborative R&D projects, consistently pushing the boundaries in the field of high performance facades. Having held various positions spanning research, specialist contracting, specialist consulting, supplier, and having chaired the Society of Façade Engineering, he has unique insight into high performance building solutions as well as the role of specialist design input in the Construction Industry.
In 2014, Mikkel was awarded the CIBSE Silver Medal for outstanding service to the Chartered Institution of Building Services Engineers. In 2017, Mikkel became a member of the ATV – the Danish Academy of the Technical Sciences - an independent, member-driven think tank. ATV's vision is that Denmark shall be one of five leading Science and Engineering regions in the world – to the benefit of future generations.
14.30 Sanjay Seth // Climate Responsive Facades and Sustainable Building Materials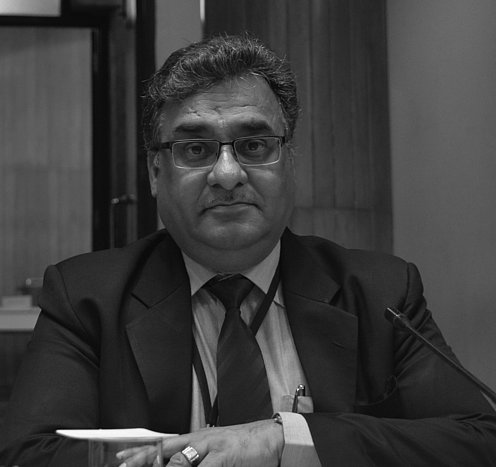 The Energy Research Institute (TERI); Delhi, India
Sanjay Seth is Senior Director & Senior Fellow of the Sustainable Habitat Division with The Energy and Resources Institute (TERI). He is also the Chief Executive Officer of GRIHA Council which administers the Green Rating for Integrated Habitat Assessment. Prior to joining TERI, he worked with the Bureau of Energy Efficiency, Ministry of Power, Government of India and headed the vertical on Building Energy Efficiency.
He was also the interim Secretary of the Bureau of Energy Efficiency and responsible for the administration and financial management of the organization. In this capacity, he provided oversight to the implementation of policies and programmes of BEE as well as the National Mission on Enhanced Energy Efficiency (NMEEE), and all international bilateral/multilateral cooperation programmes. He also represented BEE on the Board of Energy Efficiency Services Limited (EESL) as Director. He joined BEE in 2007, with the introduction of the "Energy Conservation Building Code (ECBC)", and was given the responsibility of developing an enabling framework for facilitating its implementation in a consistent manner throughout the country. By training he is a Civil Engineer and has more than twenty nine years of experience in the power sector of which the last nine years have been on the Demand Side. Prior to joining the Bureau, he has worked in various capacities in a Central Public Sector Generating company, under the Ministry of Power and was associated with planning, monitoring, co-ordination and construction management of Hydro and Thermal power projects.
Session #4 Future Architectural Concepts
15.30 Robert-Jan van SANTEN //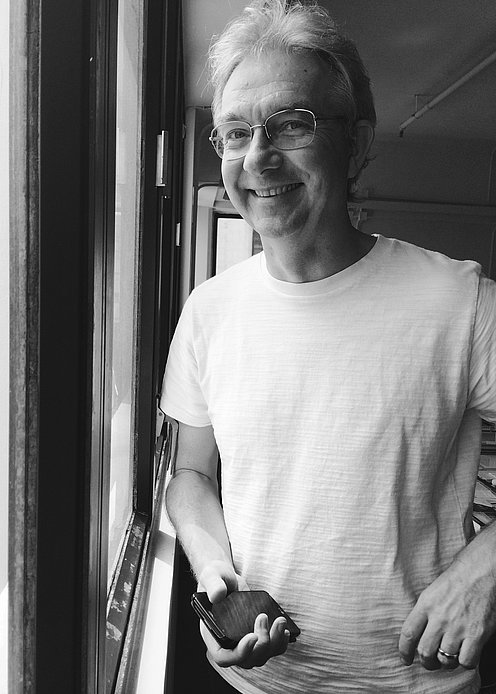 VS-A, Lille, France
Robert-Jan van Santen is a Dutch Architect who has created façade consulting offices in Lille, France, and in Hong-Kong, totalizing 35 employees.
He got the silver medal of the French Académie d'Architecture for his research and technique activities.
He has been working on lightweight envelopes for 25 years, in collaboration with prestigious international architects like OMA, Zaha HADID, Christian de PORTZAMPARC, Steven HOLL, mainly in Europe, but also in Asia and Africa.
He works on Indian projects in collaboration with Binoy KUMAR DAS of FCD (Mumbai).
With 30 years of experience in the field of building envelopes, he believes that a successful attitude towards facades is by predicting their future upgrading in 30-50 years.
16.00 Spencer Culhane // Transparent Facades for Music Performance Space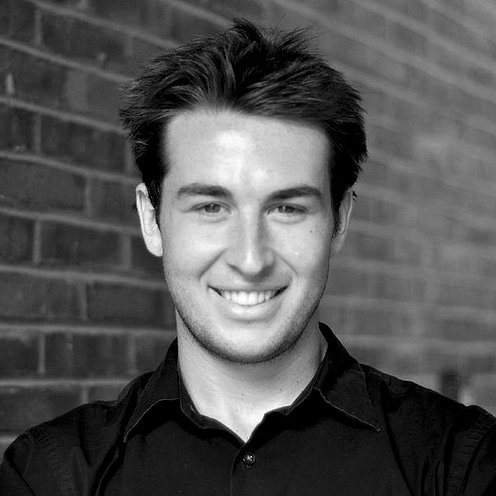 Schüco New York; New York, USA

Spencer Culhane currently works as an Architectural Advisor for Schüco USA in New York City where he helps architects, consultants and developers plan their building envelopes. He has been in the facade industry since 2011. He holds a Bachelors degree from the Massachusetts College of Art and Design and is a Solar Decathlon Alumni. He is currently pursuing a Master of Engineering degree at the Hochschule Ostwestfalen-Lippe with a specialization in Facades.
16.30 Selected Student Posters // Book Launch efnMOBILE 2.0 Efficient Envelopes // Final Discussion