ICBEST - Student Design Competition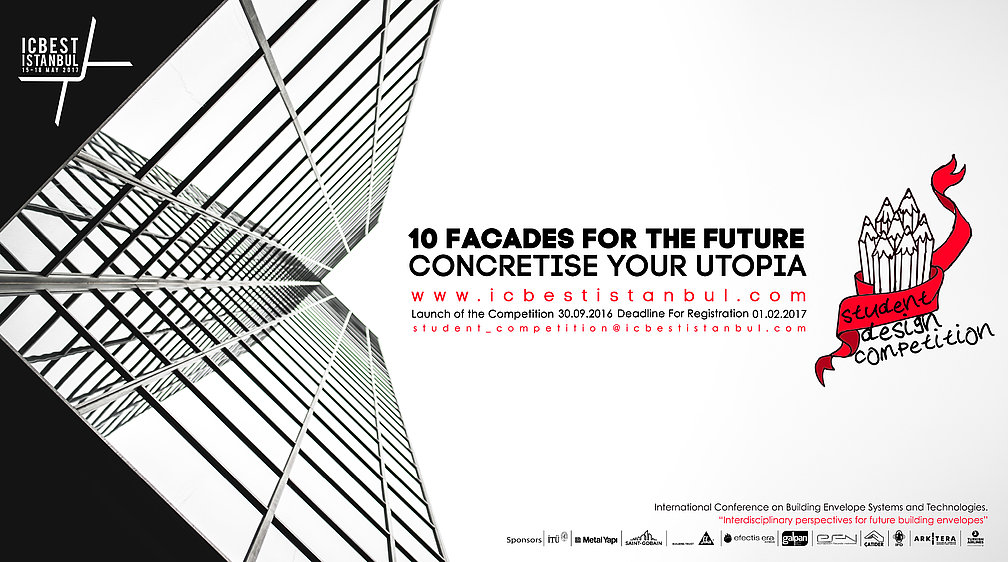 'Ten Facades for the Future - Concretise your Utopia' was a design competition for the facade system of the future in the pursuit of new and creative ideas, which was organised as a part of ICBEST Istanbul 2017. It was open worldwide to undergraduate and master students of all building-related fields. Interdisciplinary teams were encouraged to join, while single-discipline teams or individual applications were also welcomed.
Ten Facades for the Future's challenge was to search for a new face for middle to high-rise office or apartment buildings as well as to search for an innovative facade system that will improve the performance of these buildings in topics such as energy efficiency, environmental sustainability, adaptability, production efficiency, wind and seismic resistance. In this search for innovation, adopting widely known strategies such as prefabrication or more recent ones such as biomimicry were both welcomed. Solutions that combine facade and roof as a single element could also be investigated.
The location of the buildings in which the new facade system will be used could be anywhere in the world. However, entrants were expected to specify a climate type according to Köppen-Geiger classification scheme, and to design the facade system according to this selected type. A specific city could be determined instead of using a national location with a specified climate.
Structural safety, fire safety, technical functionality and durability, indoor environmental related performance, environmental sustainability, constructability/maintainability and usability/user related functionality were the performances that should be considered in the facade system proposal, at least at a minimum level. Entrants could either select a limited number of performances among them as the focus of significant improvement, or prefer to make general improvement in all of them.
Universities and Programmes of Entrants:
Delft University of Technology - Faculty of Architecture, Master of Science Architecture, Urbanism and Building Sciences / Building Technology (2 proposals)
Gebze Technical University - Faculty of Architecture, Architecture Master Program with Thesis (2 proposals)
Hochschule Ostwestfalen Lippe, University of Applied Sciences - Detmold School of Architecture and Interior Architecture, Masters in Integrated Design - Facade Design and Construction (5 proposals)
Middle East Technical University - Faculty of Architecture, Department of Architecture (1 proposal)
Politecnico di Torino - Faculty of Architecture for Sustainable Project, Department of Architecture Design (1 proposal)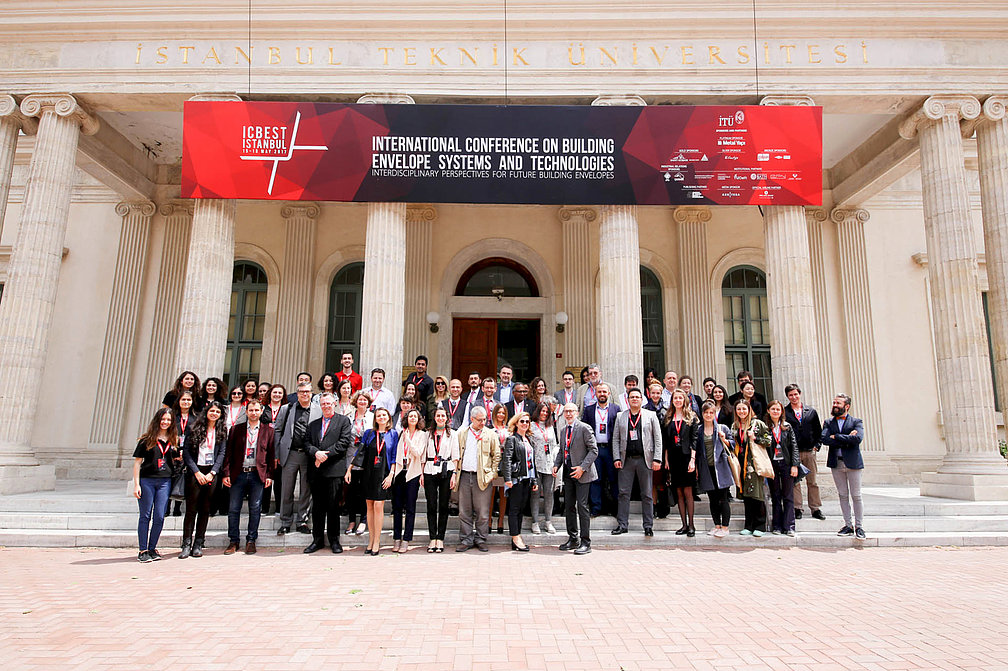 Assessment Procedure:
Assessments of the proposals were based on their level of improvement in the performances listed in Section 1 and their level of innovativeness. International specialist jury members assessed each project for a specified performance heading, and graded in terms of the aforementioned issues. Core jury members determined qualified proposals considering the grades of international specialist jury members. In the design brief posted online at ICBEST Istanbul 2017 web site, it was announced that 10 best proposals will be awarded, with a provision to reduce the number considering the content of the proposals. Core jury members decided to award proposals which were above the determined threshold considering the average grades of specialist jury members, and five proposals listed in Section 5 were qualified to be awarded.
Organizing Core Jury Members:
Aslihan Tavil (I.T.U.)
Caner Gocer (I.T.U.)
Ecem Edis (I.T.U.)
Oguz C. Celik (I.T.U.)
Yasar Hanifi Gedik (I.T.U.)
Specialist jury members:
Ana-Maria Dabija, Ion Mincu University of Architecture and Urbanism

Cem Topkaya, Middle East Technical University

Inês Flores-Colen, Universidade de Lisboa Instituto Superior Técnico

Jorge de Brito, Universidade de Lisboa Instituto Superior Técnico

Nuri Serteser, Istanbul Technical University

Sabarinah Sheikh Ahmad, Universiti Teknologi MARA

Volkan Gur, Mimar Sinan Fine Arts University

Organizing Reporters:
Buket Metin (I.T.U.) (Executive Reporter)
Elif Tugba Yalaz (I.T.U.)
Isil Turkay (I.T.U.)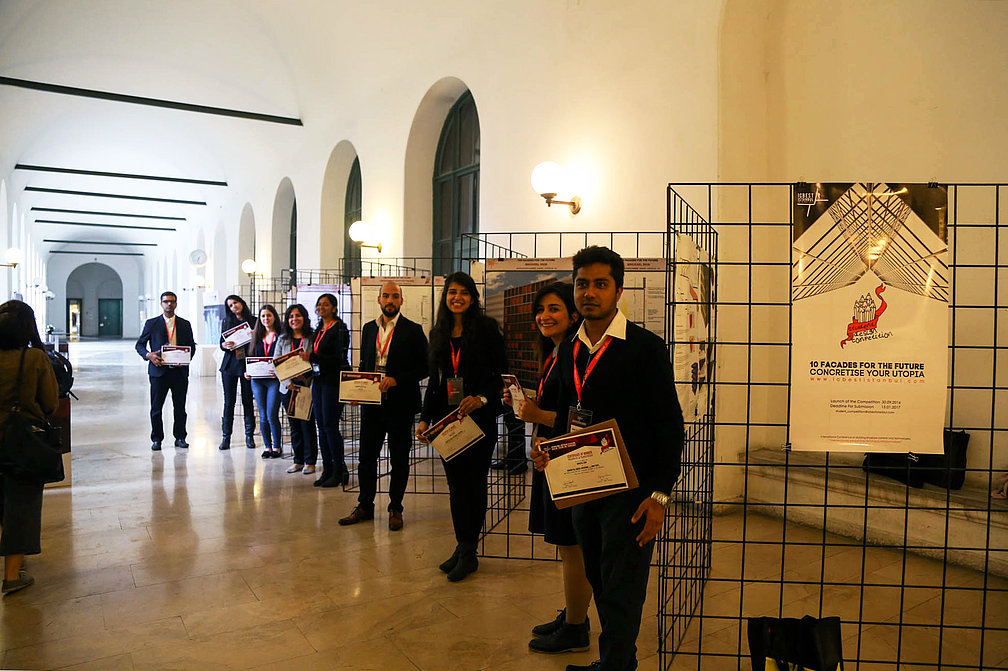 Qualified proposals (in the alphabetical order of Proposal Mottos)

Brickxel Skin
Urvashi Tuli, Mahsa Shafighnia, Ankit Patel
Hochschule Ostwestfalen-Lippe University of Applied Science, Masters in Integrated Design – Façade Design

Environment-Adapted Façade
Ozhan Topcu
Technische Universiteit Delft, Faculty of Architecture and the Built Environment, MSc. Building Technology

Hybrid Double Skin Façade in Cairo, Egypt
Radwa Abouelseoud, Jameela Eranpurwala
Hochschule Ostwestfalen-Lippe University of Applied Science, Masters in Integrated Design – Façade Design

Sails in The Ocean
Tavishi Rana, TubaElaCinar
Hochschule Ostwestfalen-Lippe University of Applied Science, Masters in Integrated Design – Façade Design

The Flexible Façade
Aashish Ravindra Vipat
Delft University of Technology (TU Delft), Architecture, Master of Science Architecture, Urbanism and Building