CAAD | Computer Aided Architectural Design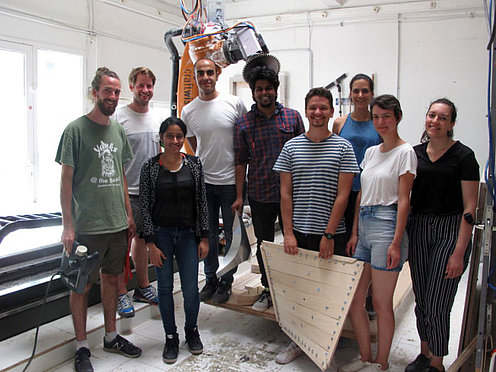 The professorship for CAAD at the Detmold School of Architecture and Interior Design focuses in teaching and research on computer-aided processes in the development and production of architecture.
Today, computers have a critical influence on the way architects and interior designers work. The computer is the most comprehensive, powerful and dynamic tool ever available to architects. The networking of actors, the intelligent control and automation of complex processes, the processing of large amounts of data and interactive visualization, in such as 'augmented reality' and 'virtual reality', have a growing influence on the formal design, function, production and perception of architecture. To successfully participate in the design of these topics and processes, architects need to be able to understand and use the computer as an interactive, creative tool.
Teaching Computational Design in Bachelor programs
The primary goal of professorship is therefore to develop a fundamental 'digital sovereignty' of students in the use of computer-based tools, especially in the context of architecture and interior design. In this context, the teaching of theories on digital design, planning and manufacturing processes, as well as 3D modelling and presentation of architecture in practice are the focus of the basic training. Further modules deepen the knowledge of topics such as 'Generative Design', 'Augmented Reality', 'Digital Fabrication' and the comprehensive method of BIM - the so-called 'Building Information Modeling'.
International Master-Program with specialization 'Computational Design'
In this context, the consecutive, interdisciplinary and international Master's program 'Integrated Design' with a specialization in 'Computational Design' conveys special competences and a profound expertise. This is not only about the use, but especially about the development of digital tools, approaches, concepts, methods and possibilities for architecture, interior design, urban planning and design.
FABLAB OWL
In 2017 the FABLAB OWL with two main locations was opened in close cooperation with the department "Development and Design / Product Development Design / CAD" of the Department of Production and Wood Technology. FABLAB provides direct access to digital fabrication technologies and forms an important creative, experimental and communication space as a key interface between students, teachers and researchers. It offers spaces and (digital) tools to 'materialize' ideas in an experimental but precise way, thereby promoting interdisciplinary exchange. The FABLAB is also frequently opened to public, i.e. start-ups, schools, makers etc.
email: caad.fb1@th-owl.de
phone: +49 5231 769 6399 / +49 5231 769 – 6362
youtube: CAAD OWL Channel