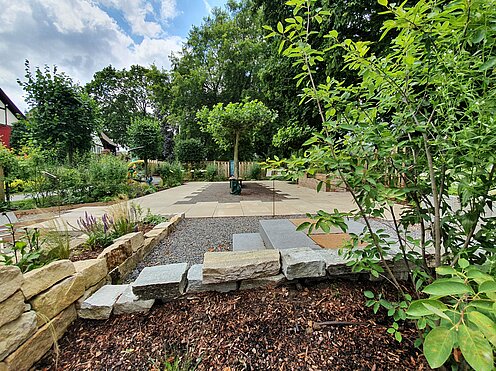 From the idea to maintenance: Our gallery garden shows the development steps of a private outdoor area.
The "Phasengarten", which will be presented as one of the many gallery gardens at the Landesgartenschau Höxter 2023, impressively illustrates the development process of a garden from the initial idea to long-term maintenance. It is a joint project between the Ostwestfalen-Lippe University of Applied Sciences and Arts and Gerber Garten- und Landschaftsbau GmbH from Extertal.
The main goal of the gallery garden is to make the processes and work normally hidden underground visible to garden owners. Through the clever arrangement of the rooms, visitors are guided to better understand the different phases of a garden project. A central information pillar presents the individual phases of the garden project in digitalized form. Here, detailed information is presented on the effort required for implementation as well as the associated pricing. Garden owners thus gain valuable insights into the planning, execution and financial aspects of garden development.

The gallery gardens at the Höxter 2023 Landesgartenschau are an inspiring resource for anyone who wants to design or redesign their own garden. From the initial idea to long-term maintenance, the phase garden provides valuable information and shows how a garden is created step by step.
Visitors to the Landesgartenschau are invited to explore the Phase Garden and be inspired by the development steps presented. The gallery gardens can be found on the rampart under point 1 on the site plan.