Program You possess an innovative idea that you want to propel further, but require both financial and conceptual support? Then apply today for the "KickStart@TH OWL" program. Individuals or teams from TH OWL can be uncomplicatedly and flexibly supported for up to six months. During this duration, teams can receive up to €7,500, coaching assistance, and unrestricted access to labs, along with guidance.
Your benefits at a glance:
€7,500 - Support of up to €7,500 for idea validation
Infrastructure - Access to our labs and co-working spaces
6 months - Coaching support for your team over a period of 6 months
This program is funded by:
Previous Winners of Kickstart@TH OWL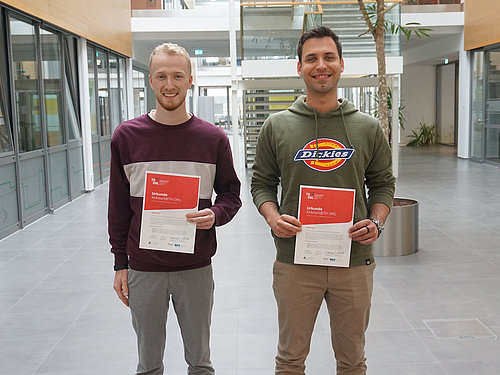 The idea behind "Valetudo" is a smart cable pull tower, familiar from the gym, for the end customer in the home. Benjamin Böhme and Finn Wiesmann want to develop a sensor system that recognises and analyses the movements of the athletes. Movement data and exercise information are displayed via an app.
To apply for the Kickstart@TH Stipendium, you need to complete a provided and meaningful concept paper and submit it within the application deadline (07.01.2024 | 11:59 PM). The documents should be sent to the following email address: gruenden@th-owl.de. A pre-selection of teams will be made by the staff of the TH OWL Entrepreneurship Center based on the submitted concept paper. Selected founding teams will be notified and invited to a pitch presentation. The decision for funding will be made by a qualified jury composed of members from the OWL Entrepreneurship Network. This selection will be based on a personal presentation (pitch, around 7 minutes) in which the founders introduce their concept and team. Immediately after, the presenters will have the opportunity to answer specific questions from the jury (10 minutes). The jury's decision on funding will be made promptly.

Upon approval by the BMBF (Federal Ministry of Education and Research), the selected founders will be personally informed and can begin the 6-month funding period. During this funding period, the services offered by the university can be acquired and provided to the teams/individuals. A one-week sprint will take place, and the StartupLab team will be available as coaches for the founders at all times.
Funding is available for:
- The early idea phase: You don't have to be there yet!
- University-internal individual founders or teams, whether students, employees or doctoral candidates
Contact and Materials If you are now interested in the "Kickstart@TH OWL" program, we look forward to receiving your application! Here, we provide you with all the relevant information:
If you have questions about the process or any further details, please feel free to reach out to us at the email address gruenden@th-owl.de.