Would you like to study at the Ostwestfalen-Lippe University of Applied Sciences and Arts, but do not yet know which study model suits you? After all, in addition to the content, choosing a degree program is also about finding a model that integrates well into your everyday life. We will give you an overview of the various options at our university. You decide whether full-time, part-time, dual or cooperative – whatever suits you best!
THE CLASSIC FORM OF STUDY
Full-time study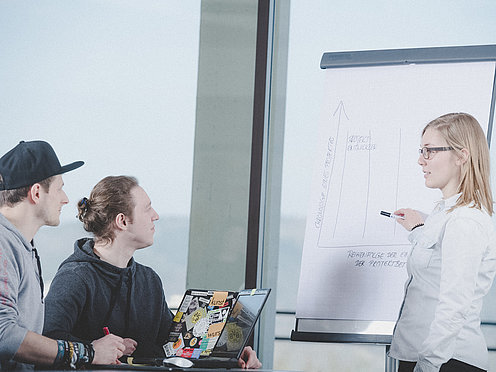 Full-time study is the most common form of study. During the lecture period, you attend various face-to-face courses on campus. In addition to attending lectures, you will also have to prepare and follow up on your studies independently and write exams and possibly term papers during the non-lecture period. Depending on the degree program, various practical phases may be part of the program.
THE ALTERNATIVE TO FULL-TIME STUDIES!
Part-time study
As an alternative to full-time studies, we also offer degree programs on a part-time basis. In these degree programs, the amount of work per week is less. This form of study is ideal for students who, for example, find themselves in special life situations, work parallel to their studies or simply want more freedom in their studies.
STUDY AND WORK EXPERIENCE IN ONE!
Dual study
We offer the dual study program at TH OWL in two variants: accompanying-training or practice-integrated.
Accompanying-training:
In a dual degree program that accompanies or integrates vocational education and training, you will complete a full vocational training program with a Chamber of Industry and Commerce (IHK) or Chamber of Crafts (HWK) qualification alongside your studies.
For the in-company vocational training as a skilled worker or journeyman, you will first conclude a training contract with a company, an institution or a craft enterprise. During your studies, you will then alternately attend your training company, the vocational school and our university. You will usually receive a training allowance that will enable you to finance your studies. You will complete any required internships during the company training period.
After completing your studies, you will have excellent career prospects. You will often be offered employment by the company that trained you.
Practice-integrated:
In the practice-integrated dual study program, you work part-time in a company, which means that theory phases and practice phases alternate on a daily, weekly or block basis. The company serves as a "further place of learning" alongside the university, where you can directly apply the contents of your studies and acquire further skills. At the end of your studies, you will earn a bachelor's degree, but not a professional qualification from the Chamber of Industry and Commerce or the Chamber of Trade and Crafts, as is the case with dual studies that accompany vocational training.
The prerequisite for a practice-integrated dual study program is a contract with a company.
PRACTICAL WORK EXPERIENCE IN THE COURSE OF STUDIES
Cooperative study
The cooperative study model involves the incorporation of practical work experience into the degree program, but without vocational education and training. You will have one practical day a week in the company or within the framework of intensive practical phases, you will get to know the fields of work and training as well as related later fields of activity.
We have compiled a list of all companies participating in the dual, cooperative or part-time studies for you under the following link.
Contact for interested parties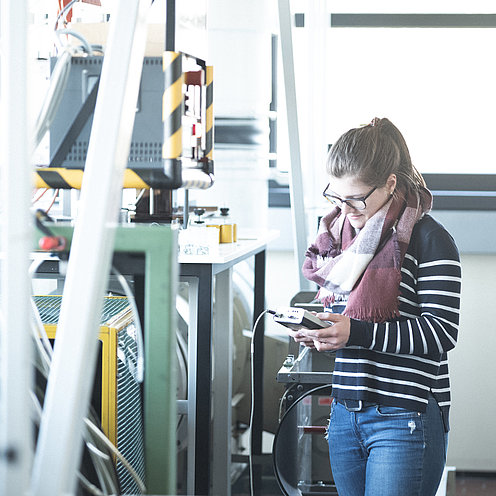 Do you have questions about our study models? As a company, you would like to offer the possibility of part-time, dual or cooperative studies?
Then the following contacts will be pleased to help you!
General questions regarding our study models:
Central Student Advisory Service
Phone: +49 5261 702 2535
E-mail: studienberatung(at)th-owl.de
General questions raised by companies about the part-time, dual or cooperative studies:
Ms Irena Rathert
Phone: +49 5261 702 5670
E-mail: irena.rathert(at)th-owl.de

We have compiled answers to the most frequently asked questions for you:

Frequently asked questions