What should I do when I graduate?
What degree program or training program matches up with my talents and interests?
As talent scouts, we help young people discover and develop their professional interests, potential, dreams and goals. We work with you to think about your interests and questions, and what you want your life to be like after you finish secondary school, then help you plan your next steps towards a degree program or training program. We support you in looking for the right training program, the right dual study program, or the right degree program, and are happy to help and advise you while you get your degree or finish your training as well.
Motivated secondary school students in senior grades who want to play an active role in shaping their futures.
It's simple: As talent scouts, we offer appointments for students once a month at our cooperating secondary schools throughout OWL. Contact your teacher, learn more about how we work and about our team here or make an appointment directly with us: Philipp Meyer: philipp.meyer3(at)th-owl.de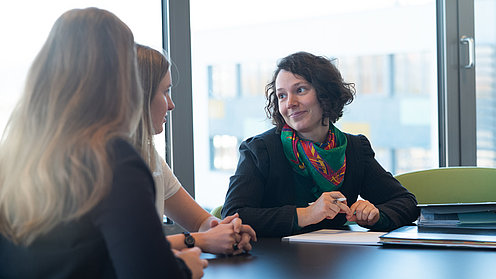 In addition to our existing student and career orientation services at partner universities, talent scouting is a long-term consulting and support service that helps us find young people who need student or career orientation, then help them get the results they need.
Today, there are more than 70 trained and certified talent scouts in the NRW Center for Talent Promotion working at around 370 vocational schools, comprehensive schools and high schools. They help over 17,000 secondary school students make the transition to vocational training or university studies, and support them as they start their careers. Talent scouts use their expertise and networks to help you with topics such as financing your degree, starting your studies, or support in your degree program, for instance, and in making contact with university students or studying abroad.
In OWL, talent scouting is carried out by a total of 9 talent scouts under the umbrella of the Hochschulverbundes Campus OWL e. V., which is managed by the Universities of Paderborn and Bielefeld, the Bielefeld University of Applied Sciences, and the OWL University of Applied Sciences and Arts. Each of the universities is responsible for a certain area:
All of the project partners work together to ensure that students have the opportunity to study regardless of their background. We support high-performing students as well as young people from disadvantaged backgrounds in training for a profession or finding the right academic career. Talent scouting is based around the needs and talents of individual students, and is designed to encourage and support them in their education and their careers.