University Information Days 2024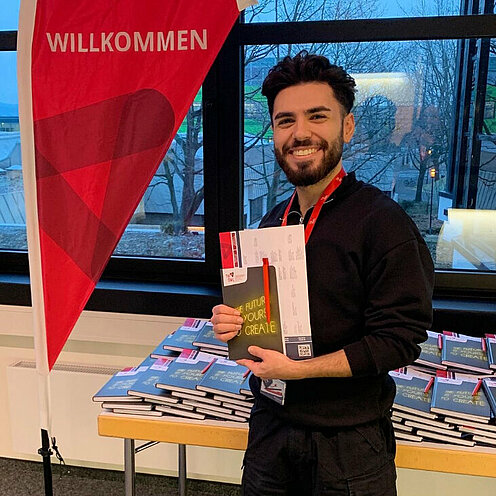 Our University Information Days (HIT) in January 2024 are aimed at all students in grades Q1 and Q2 in Ostwestfalen-Lippe (OWL), as well as all other prospective students who want to find out more about studying or are looking for guidance.
The University Information Days 2024 will take place on Wednesday, January 24 and Thursday, January 25, 2024 in presence in the rooms of the Ostwestfalen-Lippe University University of Applied Sciences in Lemgo from 9 a.m. to 1 p.m. each day. The University Information Days are primarily aimed at school classes, who are invited to find out about studying with us on one of the two days as part of their career orientation. A free bus transfer is available from the school to the university and back after binding registration (see further down on this website).
During the events, prospective students have the opportunity to find out more about studying in general and about our study programsat the three locations Detmold, Lemgo and Höxter in lectures or taster lectures of the departments and at counseling offers of the central institutions. At a "Market of Opportunities" and in speed dating, students and university staff will answer questions about studying, campus life and training. The university is not only an educational institution for academic education, but the university also trains in more than ten apprenticeships in technology and administration, partly in combination with dual studies at the university.
The range of courses offered is clustered into different areas of focus for students in order to provide quick and easy orientation: Construction and Design, Media and Design, Technology and Computer Science, Business, Environment and Life Science and Teaching at Vocational Colleges.
This page is updated regularly.
Application deadline is December 15, 2023
Registration for school classes in grades Q1 and Q2
Coordinators for vocational orientation as well as teachers are asked to register bindingly for the school classes and grades by Thursday, December 15, 2023 on this website via the online form. The order of registration counts. If the maximum number of participants is reached, registration will (have to) be closed early. The number of places is limited. There are two dates to choose from.
Individuals are also welcome without registration.