Consulting and advising services
Good advising, throughout your degree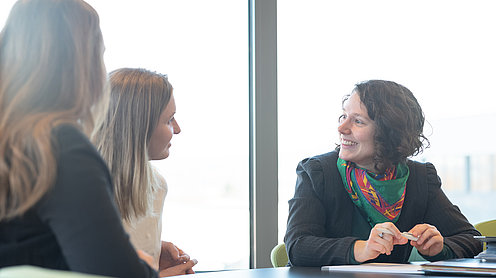 Questions and problems can come up no matter where you are in your degree program. There are multiple points of contact at the OWL University of Applied Sciences and Arts where you can receive advising and support.
If you have questions related to your degree program, you can find someone ready and willing to help at the Central Student Services Office. Contact the office if you are thinking about leaving your degree program or changing your major, and need someone to talk through the alternatives with you. If you have specific questions regarding your degree program, you should contact your departmental advisors.
Central Student Advisory Services
The International Office is the central service office for international affairs at the OWL University of Applied Sciences and Arts. It advises students who want to study in Germany, who plan to study abroad during their degrees, or who are looking for stipends or scholarships to meet their needs. International students also receive support from the International Office as they complete their degrees or a semester at the OWL University of Applied Sciences and Arts, from planning and through their stay.
Reach your career goals! The Career Service of the OWL University of Applied Sciences and Arts is the first point of contact for students, alumni and companies or employer organizations. We advise students on the topics of career empowerment, transition to work and career planning. In addition to personal counseling, we offer career events and other events.

Career Service
Studying with a child requires organizational skills, strong communication skills and flexibility from parents. Our family service will be happy to advise you. Here you can clarify specific questions in a trusting environment, for example, what steps are necessary in the event of pregnancy, when state benefits such as unemployment benefit II, social benefits for the child, housing benefit or maternity benefit, etc. are granted, and what childcare options are available.
The family service also assists students who have to combine their studies with their care responsibilities.
Getting your degree with a handicap
The OWL University of Applied Sciences and Arts offers custom-tailored advising and support to students with disabilities and chronic illnesses. Employees from technology, administration and instruction can find the best solution to any difficulties you may be experiencing, no matter your situation.
Changing your major or campus
If you are coming to the Ostwestfalen-Lippe University of Applied Sciences from another university, or want to change your major, there are lots of different things you'll need to think about. We can help you register for your desired program.
Frequently, when facing a conflict you may be uncertain who to contact for different issues – or you may have good reasons for not wanting to turn to a specific person. In such situations, members of the advisory board are happy to help.
Your time at the university is a unique phase of life, and brings with it not only opportunity but also challenges. The demands you face during your degree program are many, and in some cases may spark personal crises. To provide you with the best possible support in such situations, the OWL University of Applied Sciences and Arts offers specific advising services.
Doubts about your degree program
You may experience doubts about your degree program for a variety of reasons: Feeling unsatisfied with your department, not passing your exams, or having difficulties with the subject matter. Your life circumstances may have changed, or you may have personal issues that are preventing you from continuing your studies. We can support and advise you in such situations with a variety of services.