OUR RANGE OF STUDIES
Apply and enroll for the winter semester 2023/24
You have earned your secondary school leaving certificate and would now like to start a degree program? Or did you complete your vocational education and training and would like to deepen your knowledge by studying? With us, you can choose from over 55 bachelor's and master's degree programs. Our range of studies includes full-time and part-time degree programs, various degree programs that you can study part-time and flexibly, and dual degree programs that allow you to combine vocational education and studies.
With us, you will study in a practice-oriented manner and you will benefit from our close contacts to industry, business and the skilled trades. Our research strength allows us to offer you the best study conditions: Our laboratories and workshops are excellently equipped and at the cutting edge of technology and IT. We maintain international contacts with partner universities worldwide and in addition offer international degree programs. Many of our degree programs are unique in Germany.
Our graduates, whether Bachelor or Master, are in great demand and usually make their first good contacts to the job market during their studies through our career offers or join our start-up network Campus Foundery OWL in order to successfully start their own business after graduation.
By the way: Our students are very satisfied with studying at our university! This is confirmed by the regularly positive evaluations, for example in the CHE university ranking. In Northrhine-Westphalia (NRW), we have been voted 2nd most popular university by our students in the StudyCheck Award 2023.
Are you looking for the right degree program?
Our degree program finder will help you make your choice. Start by choosing your interests. We have divided our range of studies for you into the following areas of interest:
You already know what you would like to study? Our degree program offers sorted by access and admission:
Overview of our study programs at the locations
What can I study and where?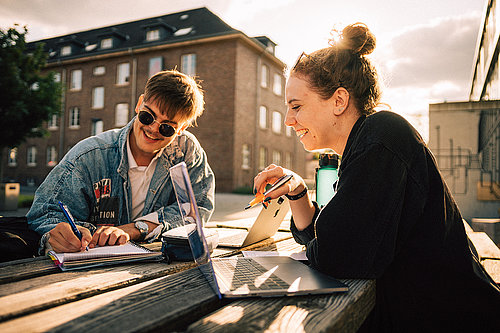 At our location in Detmold you have the choice between these degree programs:
Department Detmold School of Design
Department Media Production
Department Civil Engineering
How does "studying" work?
Register now: "Schnupperstudium" during the fall break
During the upcoming fall break, upper secondary school students will have the opportunity to learn more about their desired course of study and gain insights into university life during a "Schnupperstudium" at TH OWL. Together with the students, the prospective students will take part in the regular lectures from October 9 to 13, 2023, and receive first-hand information about everyday life at the university.
Registrations are possible until October 1, 2023.
Kreativ Campus Detmold
Innovation Campus Lemgo
Sustainable Campus Höxter
APPLICATION DEADLINES, START OF SEMESTER AND LECTURES
What? When? Where?
You can apply for our admission-free Bachelor´s degree programs from May 2 to October 15, 2023 via our KIS portal!
The application period for our admission-restricted Bachelor´s degree programs starts on May 2, 2023. The application is processed via the application portal of hochschulstart.de.
You can apply for our Master´s degree programs from May 2, 2023 via our KIS portal! The exact application periods of the respective degree programs are indicated in this table.
Start of the winter semester is September 1, 2023.
Start of lectures is September 25, 2023.
The official central first semester welcome will take place on September 25, 2023 at 10 am at our locations in Detmold, Lemgo and Höxter. All information can be found on our Start of Studies page.
Your way to us!
What do I have to do?
STUDENT ADVICE AND COUNSELING, PREPARATORY COURSES AND OFFERS FOR PROSPECTIVE STUDENTS
Before it starts
START OF STUDIES AT THE TH OWL
First semester welcome in the winter semester 2023/2024
You did it! You successfully enrolled for your desired degree program at TH OWL!
The official central first semester welcome ceremony will take place on September 25, 2023 at 10 a.m. at our locations in Detmold, Lemgo and Höxter. You will find more information about the first semester welcome in the coming weeks on the website for the start of studies. There you will also find many helpful tips on how to start your studies:
Still unanswered questions?