Bewerbung für Geflüchtete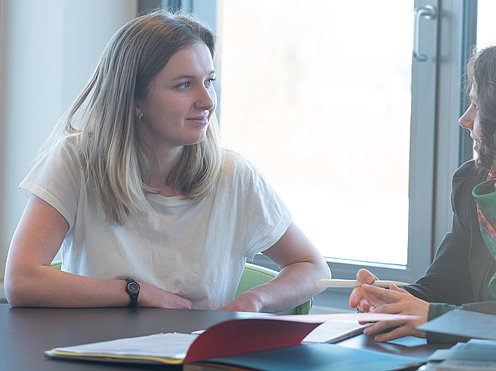 Alle Studieninteressierten mit einem Schul- oder Studienabschluss aus einem Land außerhalb der EU müssen sich über uni-assist bewerben. Uni-assist prüft Ihre Hochschulzugangsberechtigung (Schulabschluss oder Studium) und die sprachlichen Voraussetzungen und leitet Ihre Bewerbung an die Technische Hochschule Ostwestfalen-Lippe weiter.
Für die Einschreibung müssen Sie ein Schulzeugnis, dass zum Studium berechtigt, und das bestandene B2-Sprachzertifikat nachweisen (z. B. Zertifikat B2 in Form von DSH 1 oder TestDaF, telc B2 oder Goethe-Institut B2).
Wichtig: Alle Bachelorstudiengänge starten im 1. Fachsemester nur im September!
Ein Studienstart in einem höheren Fachsemester ist auch zum Sommersemester (Studienstart im März) möglich. Voraussetzung dabei ist, dass Leistungen aus einem bereits begonnenen Studium anerkannt werden können. In beiden Fällen muss die Bewerbung an uni-assist gerichtet werden.
If you completed your school or your studies in a land outside the EU, you have to aplly via uni-assist. Uni-assist evaluates your certificates forwards your application to OWL University of Apllied Sciences and Arts. For enrollment, you must prove that you have passed the B2 language certificate (eg certificate B2 in the form of DSH 1 or TestDaF, telc B2 or Goethe-Institut B2).
Important: All Bachelor programs start in the 1st semester only in September.

A study start in a higher semester is also possible for the summer semester (study start in March). The condition is that benefits from an already started study can be recognized. In both cases, an application for admission must be addressed to the uni-assist.
Bitte bewerben Sie sich bei uni-assist für das Wintersemester im Zeitraum vom 15. April bis 15. Juni eines jeden Jahres.
Für das Sommersemester und die Bewerbung auf ein höheres Fachsemester ist der Bewerbungszeitraum zwischen dem 15.Oktober und 15.Dezember.
English
Deadline for Admissions
Please hand in your application at uni-assist for the winter term between 15th April and 15th June each year.
For the summer term you have to submit your application for a higher semester between 15th october and 15th december.
Was bedeutet eine Einschreibung?
Wenn Sie sich an der Technischen Hochschule Ostwestfalen-Lippe einschreiben, erhalten Sie den Status als Studierender.
Voraussetzung für die Einschreibung ist die Zahlung des Semesterbeitrags. Der Semesterbeitrag umfasst das Semesterticket (für die Nutzung von Bussen und Bahnen) für das Bundesland NRW sowie die Leistungen des Studierendenwerks und der Vertretung der Studierendenschaft (AStA).
Weitere Informationen zum Semesterbeitrag finden Sie hier:

Semesterbeitrag
English
What does enrollment mean ?
If you enroll at the OWL University of Applied Sciences and Arts, you will receive the status as a student. Prerequisite for the enrollment is the payment of the semester fee. The semester fee includes the semester ticket (for the use of buses and trains) for the state of North Rhine-Westphalia as well as the services of the student union and the representation of the student body (AStA). Further information about the semester fee can be found here: